Unbelievable! 4 Ways to Achieve Content Integrity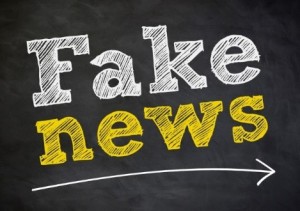 Words hold power to influence and persuade, but also to damage and degrade. This reality has never been more real than it is today, with the 24/7 impact of social media and nonstop news cycles putting pressure on brands to keep pace with content demand. In some cases, the cost is credibility as content creators and news outlets compete to be first to market with new information.
This beat-the-press game of content publishing runs the risk of sacrificing quality and accuracy, both of which can fall by the wayside when the pressure mounts to accelerate content distribution. How tempting is it to share a tantalizing piece of news fresh off the airwaves—never taking the time to determine whether the information is real or fabricated? In the case of "fake news," does the share reap more risk or reward?
It's no wonder, then, that content integrity dominated the 2017 headlines. Consider one report that claims as many as 25 percent of Americans received fake news stories during the 2016 election cycle, information invented for political gain or profit. We may never know the impact of this on our election outcomes, but lessons can—and should—be learned.
France is taking heed of the dangers of news forgery. The country's legislators are looking to pass laws to curb fake news during election cycles while preserving legitimate content. Transparency, it seems, is in short supply, with backers of so-called news stories hidden from readers' view.
In the U.S., elementary schools and universities are offering courses to help students separate content fact from fiction, while in the social sphere Facebook is working with the Associated Press and FactCheck.org to thwart the spread of misinformation.
Content manipulation for the purpose of persuasion isn't new. Advertorials, which are long-form advertising content masked as news, have long been used by marketers. Created in a journalistic style with the intention of seeming credible and "newsworthy," this promotional tactic was labeled as advertising.
This is not so today, where there are no labels to discern influence from information—or misinformation. What clue does a reader have that a piece of content is promotion versus news or fabrication? Never has the content consumer had to work so hard to judge the integrity of what they were reading or hearing—even content distributed by established news outlets (NBC, ABC, and CNN have all had journalists exit for publishing false or misleading reports).
The beginning of a new year gives us a moment to consider our content wins—and losses—and take stock of the value we add with the words we generate and share. It's also an excellent time to revisit the age-old principles of journalism that have guided us in the past. The American Press Institute's book, The Elements of Journalism, serves as a reminder of what good writing looks like—and how content creators can infuse integrity into the madness of content generation.
Here are four journalism principles borrowed from this trusted resource that content creators can embrace:
1. Journalism's first obligation is to the truth.
Seek to communicate the truth at all costs. Truth is born of fact and absent of bias or influence. It's hinged on the process of gathering and validating information from credible sources to generate a fair and balanced account of your subject.
2. Its first loyalty is to citizens.
Put public interest ahead of prejudice and allegiances. This type of impartiality builds credibility with your readership, who learn over time to trust the content you deliver. Even in the case of branded content, the foremost goal should be to inform with transparency and accountability.
3. Its essence is a discipline of verification.
Unless you're fortunate enough to have staff editors and proofreaders (lucky you!), you'll need to be your own editor and fact checker—and a skeptic at heart. Challenge the information that's presented to you and dig deep to verify that it's valid and defensible.
4. It must strive to make the significant interesting and relevant.
Create content that's engaging and relevant. Ensure that your words add value, not noise, to your audience. Identify and address critical challenges with information that serves a purpose and is rooted in reality—not fabrication or hyperbole.
The best content engages audiences with a mix of information and inspired observation, not outwardly influencing but instead gently helping the reader draw his or her conclusions. It's an artful dance that requires discipline and skill—and differentiates professional content creators from fake news purveyors.
Contact us to learn more.