Don't Overlook the Online Power of Off-Line QR Codes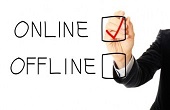 I admit it. I love the idea of quick response (QR) codes for adding a digital dimension to direct mail and print collateral. Not only is it intriguing, but it's a powerful way to generate real-time engagement in static direct mail – and it's an excellent way to integrate print and mobile campaigns.
As the trend toward mobile consumption of digital content continues, so will the demand functional printed electronics like QR codes. The best way to know if QR codes are right for your business is to test them. With so many advances, there are more great ways than ever to leverage them in your upcoming print promotions.
It's more custom
Today's QR codes can be printed in color and branded to your company or campaign. You can even add images and logos for a more personalized look that can be tied to a brand or theme. Not only do custom QR codes add interest and interaction, but pops of color and graphics can make them stand out as a compelling call to action.
It's more engaging
QR codes can be free to generate and are easily printed on all types of media. But a few words of caution: Like all else in the digital world, you want to ensure a good user experience, so be sure to deliver relevant content that adds value and pays off the action. And because your content will be viewed on a mobile device, make sure it's mobile optimized and doesn't require additional app downloads.
It's more actionable
Today's QR code generators give marketers many different ways to drive customer action. No longer are you limited to a simple URL. QR codes can serve up text messages and location maps – and they can tie into your social channels like Facebook, Twitter and YouTube.
It's more measurable
With analytics integrated into your QR campaign, every scan is quantifiable, giving you real-time insight and ROI metrics. As with any digital campaign, creating a unique landing page for your QR codes helps you monitor your page traffic and conversions. Additionally, by using a dedicated landing page you can update campaign-specific content as needed.
Want to generate more site traffic with your direct mail? QR codes may be the secret to your success. Contact me to learn more.